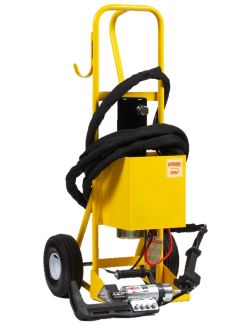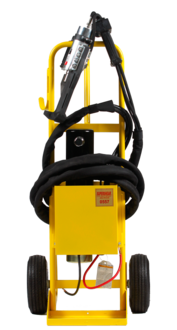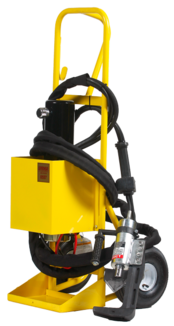 $5150.00
Two Extra Blades (New Customers Only)

*Call for a Shipping Quote* , (Dims, 36X36X56 @ 200 Pounds)
The 12-Volt Supershear is a hydraulic catalytic converter cutter designed for ease of use and mobility.
Features:
SUPERSHEAR'S PATENTED CUTTING HEAD DELIVERS SUPERIOR RESULTS
Lightweight for ease of use & mobility.
12-volt deep cycle battery powered.
Cuts 100-150 times in 1 charge.
Single person operator.
Ideal for the facility processing 20-100 cars a week.
This shear is powered by a 12-volt deep cycle battery, the lightest of the three Supershears will cut approximately 100-150 cuts before a recharge and can be loaded by a single person.
This machine is ideal for the smaller recycling yard, which processes 20-100 cars a week. The hydraulic unit is mounted on a two-wheel cart with a 10.5-inch polyurethane "no flat" tires.
Like the other three Supershear models, this machine is shipped with 23 feet of braided hydraulic hose connected to the patented Supershear cutting head. A two-button switch handle, located below the head, controls the cutting motion and facilitates a one-man operation.
For Questions, Reach Us at (800) 999-8100 or Outside the U.S. (480) 789-3893
We've been building the Best Catalytic Converter Tool for over 20 years!